Second Chance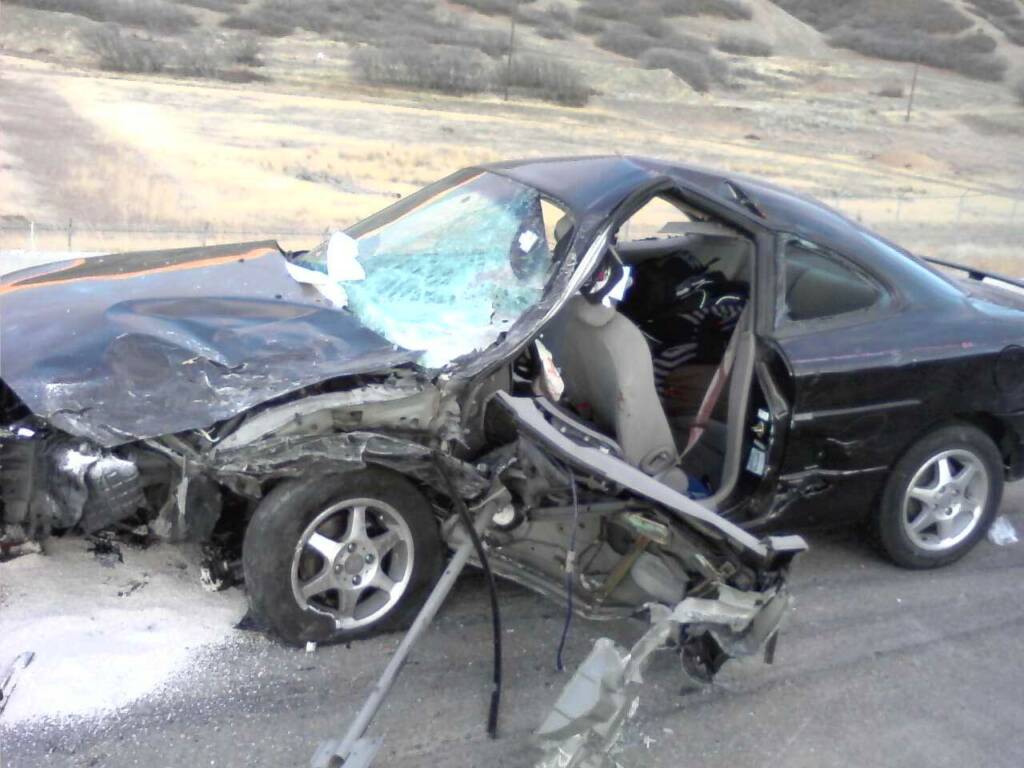 COULDN'T WAIT to get through my day on December 12, so I could get back to my room and finish preparing for my future road trip. I finished up my last class and headed back to the room to finish packing.
It was a warm, clear day. The radio was on, the windows were down and I didn't have any worries as I had made the drive numerous times. As we embarked on our road trip down US-89, I had two routes to choose from: I decided to take the course that went through the Spanish Fork Canyon.
About an hour into the drive, we approached an intersection where US-89 turns into US-6 E towards Spanish Fork. My brother and I were discussing whether I was ok to continue driving since I had driven the whole way from Snow College. I assured him once again that I was fine and I told him that if anything changed, I would let him know.
I made a left turn onto the two-lane highway of US-6 E headed toward Salt Lake City. We had about 50 minutes and 52 miles left and it was close to 6 p.m. I was cruising along with my brother sitting in the front and teammate Cody in the back. The road kept snaking left and right.
Up ahead on the road, we came upon a tan Ford Focus. As we tailed it for a while, Shawn and I noticed that the driver was swerving in and out of the lane and sometimes into the oncoming lane. I kept my distance and continued to keep an eye out for the Focus to ensure our safety.
As we approached the last turn out of the canyons, I remember looking to my left and seeing the field full of big wind turbines. I remember thinking how peaceful that view was and how much I enjoyed this road trip with my brother and my teammate.
I quickly focused back to the road in front of me, remembering that I needed to keep a close eye on the Ford Focus ahead of me. As I turned to face forward, we hit a straightaway that would lead us out of Spanish Fork and onto I-15 northbound toward Salt Lake City. My last memory was of the wind turbines, and then everything went dark. I had no idea what happened or where I was. The only thing I remember was that it was dark all around me and there was a bright light creeping through the darkness. I felt myself falling backwards while trying to grasp the light slowly. The light got darker and darker as I fell. I then opened my eyes and basically came back to life.
For two hours that night, hospital personnel called our friends and family to let them know that the three of us had been in a terrible accident.
As everyone got to the hospital, they found out that my two passengers had minor injuries and mine were the worst. They told my family and friends that a car in front of me lost control and veered into the oncoming lane, hitting a vehicle head- on. A second oncoming driver tried to avoid the wreck and lost control, hitting my vehicle. I then lost control and smacked dead onto the rail on the highway. Shawn and Cody were able to climb out of the vehicle, and when they came to the driver's side to check on me, I was unconscious. I wasn't breathing or moving at all. They tried to wake me up by yelling my name and shaking me and they said my head just fell back. There was blood everywhere: my face was covered in blood and blood was pouring from my mouth. Shawn said he thought he had lost me.
Come to find out my head smacked the steering wheel and then the air bag deployed. The ambulance came and rescuers had to use the Jaws of Life to pry my door open so they could drag me out of my vehicle. At this moment, I apparently woke up. My brain had stripped down into the most basic fight-or-flight response and was working on survival mode. I unknowingly fought them as they were trying to get me on the stretcher.
At the hospital, as friends, family, and teammates walked into the hospital room to see me, there were doctors and nurses around me. They cleaned my face and stitched my wounds. They had to remove much glass debris from my face and body. A cast was also made for my left hand as I had fractured it in four places. Some of my friends and family left the room because they couldn't bear to see me like that.
The Millers, however, were there by my side. Friends and teammates from Snow College also came to visit and check on us. They made a get-well poster with candy bars replacing the important words like "crunched," "Butterfinger" and "three musketeers."
When I came back to reality, I woke up with the most excruciating pain in my head. My face was hurting and swollen. My face felt stretched. It was difficult for me to talk or smile. My vision was blurry. There was so much pressure in my head that I felt my head was going to explode. I had the worst headache ever. I felt as if someone had a chisel and was continuously chiseling away at my brain.
I couldn't quite pinpoint exactly where I was or whom I was with at the time. I couldn't bear the excruciating pain in my head, so I laid my head back. The Millers drove me to their home and helped me into the house. The next thing I remember was them trying to help me lay down on the bed so I could get some rest. My vision was blurred and I could hardly see straight. My pain was on another level and my head felt pressurized, as if my brain was going to explode.
The next two weeks were filled with appointments: chiropractor, urgent care and the dentist. A couple of days later, I went out with friends for a birthday celebration. I was determined not to let this minor setback stop me.
Through this tragedy I learned many lessons. To this day, there is nothing like waking up knowing you've been blessed with another day to breathe, to experience life, and to be happy. It is the greatest gift one could receive. I've learned to value life, because I've learned that it could end at any moment. This life we live is unpredictable. While most of us moan over the happenings of our daily lives, we really never stop to think about how a simple act such as walking outside is such a tremendous blessing. It is moments like these that many people take for granted.
My temporary death on that December day frightened me to the core. It takes a long time to work through that kind of personal devastation and, to me, it is ok to take my time recovering. Death became the greatest teacher and the priorities in my life suddenly shifted. The saying, "The trouble is we all think we have time," became so much clearer to me. We need to cherish every moment, for it could be taken away at any given moment. I started approaching life as though there was no tomorrow. Ray Lewis, a linebacker for the Baltimore Ravens, said it best: "If tomorrow wasn't promised, what would you give for today? Forget that there was any sunlight left. What would you spend today thinking about?"